Miorola /Fine Jewellery
earring styles that work best with a saree
Author:Adrija6th February 2021 at 12:00am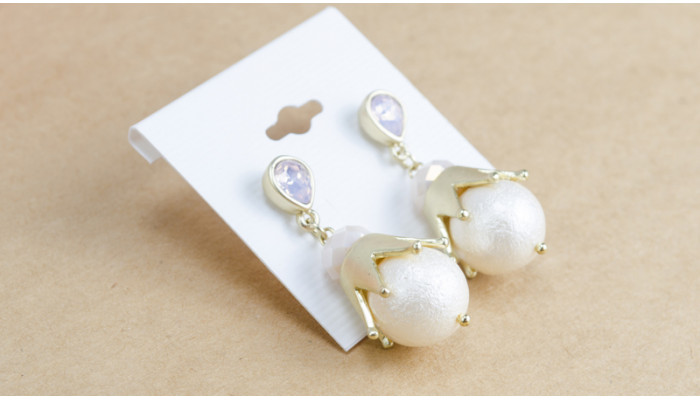 If there is something which can instantly transform you into a glamorous diva, it has to be the ever elegant and timeless saree. Dressing up in a saree can be an exciting prospect, as there is plenty of room for you to get creative with your outfit. While a saree itself needs no introduction, it always turns out to be even more spectacular when you spice it up with the right choice of accessories. Apart from a gorgeous necklace or a choker set, earrings complement a saree quite well and work wonders with your look. As there is an endless list of earring designs out there, we have shortlisted 4 different styles that work best with a saree.
Chandbalis
These are the most glamorous pair that every Indian woman should get hold of. The "Chand" or moon-shaped design paired with intricate embellishments, make this style a perfect match for a saree. If you are someone who loves to create a statement look, then consider investing in such a pair. The lovely gold or silver ones with tiny pearl or ghungroos at the ends are the most beautiful as well as the popular choice for many jewellery shoppers. For the ultimate statement look, opt for a gorgeous 22K gold and Kundan glass Chandbalis by Tanishq. Tanishq offers fabulous designs of Chandbalis, with their Kundan and Polki gold and diamond range being the most fantastic of them all.
Drop earrings
These earrings add a touch of elegance and sophistication to your whole look. The versatility of this style makes it great for any occasion and looks pretty when paired with a saree. There are hundreds of designs out there for you to choose from. A simple pearl drop earring or a dazzling gold earring will complement a saree really well. Pair these with a cocktail saree and create an eye-catching statement.
Jhumkas
No traditional outfit is complete without putting on a pair of jhumkas. This earring style with its bright and fun design has always ruled the glamour community since time immemorial. Glittery gold, oxidised, and crystal-studded jhumkas are the most sought-after ones. If you are looking for something light but at the same time a little dressy, then go for the simple yet lovely multicoloured layered ones. To start with, you can consider having a look at the fabulous collection offered by Ranka Jewellers. Their diamond-studded 22-carat gold jhumkas, have intricate design work with an expert level of craftsmanship. Team these up with your favourite saree and look like a diva!
Studs
If you want to keep it simple, accessorise your saree with a pair of good old studs. For those who have a fetish for diamond earrings, this style is just perfect for them. The minimalistic design and subtle elegance of this style make it a timeless piece to have in your jewellery collection. One thing that you should keep in mind while teaming up studs with a saree: choose a sequined or an elaborate outfit to balance out the subtility of the stud earrings.
For an exciting range of earring styles and designs, do visit our website miorola.com.
Related Posts