Miorola /Fine Jewellery
terracotta jewellery is in : here is what you need to know
Author:Adrija6th February 2021 at 12:00am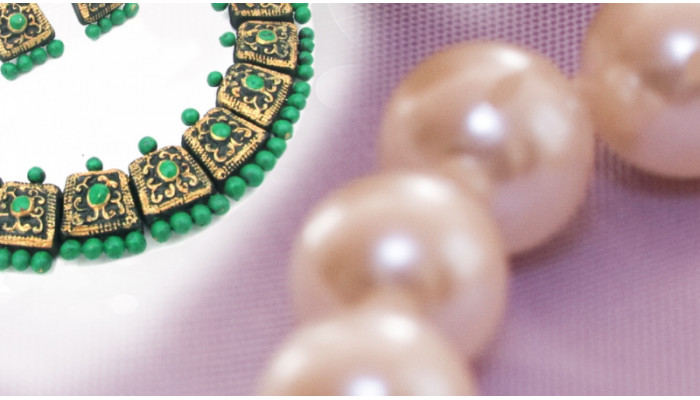 The chic, glamorous world of today has quite freely, opened its doors to a humbler and more unassuming genre, of terracotta jewellery. From illustrious galleries to local jewellers, terracotta jewellery has managed to create a ripple in the fashion community, with its charming and tasteful aesthetic. This style has picked up its pace in recent years and emerged as one of the coolest trends in town. Read on to discover more about this newest model of the fashion world.
What is a terracotta jewellery?
Terracotta is an Italian term which means 'cooked earth'. Known as one of the oldest forms of jewellery in the world, terracotta is basically a reddish earthen clay, that is moulded into different shapes and forms of jewellery. The term 'Terracotta' is specifically used for ceramics, that are baked out of a reddish-orange earthen soil.
Apart from its usage in jewellery making, terracotta is also used extensively for designing vases, pots and various other décor items. Since ancient times, terracotta has found its use in sculpturing figurines of deities for any festive ceremony. This tradition is still very much prevalent today, as most of the deities are being carved out of terracotta. The temples in the towns of Bishnupur, Murshidabad, Birbhum, Hooghly in West Bengal, stand as excellent examples of the mesmerising art form, that is terracotta.
When we think of terracotta jewellery, the first visual that comes to our mind, are the charming pieces adorning the traditional nomadic tribes. These ornaments have always been an integral element of our rich tribal heritage. The rustic appeal and ethnic design of these trinkets, make them perfect for being paired with any traditional outfit. The most sought-after jewellery pieces are the terracotta earrings. The beautiful animal and plant motifs on these earrings paired with unparalleled craftsmanship is a perfect portrayal of the fantastic skills possessed by our remarkable artisans. The earrings often come in brighter hues (pink, indigo, yellow, etc.) and contemporary designs to achieve a larger customer base. All these are handcrafted with the utmost care and skilled expertise. The product line of terracotta jewellery also includes bangles, chokers, necklaces, pendants and danglers. Bishnupur (West Bengal) and Gorakhpur are some of the places in India, famous for their terracotta jewellery.
How is terracotta jewellery crafted?
The simple art of terracotta jewellery involves a rather labour-intensive designing process. The earthen clay is first moulded to its desired form and then baked in a kiln or under the natural heat of the sun. A crucial step in the process is the 'firing' of the hardened clay. It usually happens at a temperature of thousand-degree celsius. Firing is an integral component, as this is what gives terracotta jewellery its classic earthen colour. Finally, the piece is glazed or enamelled for a glossier finish.
Benefits of owning terracotta pieces
Pocket-friendly:-It is incredibly inexpensive. A classic terracotta earring may cost you anywhere between 100-250 rupees if you are purchasing from the local vendors. A terracotta set might be costlier but still falls within the affordable bracket.
Distinctly charming:-While diamond earrings ooze elegance and gold earrings make you look radiant, a terracotta piece will add a refreshing touch to your whole look. The subtle charm of these handcrafted trinkets, make them a unique addition to your jewellery ensemble.
Fuss free:-Since it is made out of earth's own soil, terracotta jewellery is naturally a skin safe and an eco-friendly item to have in your collection.
In the contemporary age of fashion, the modest terracotta jewellery has found its footing and managed to get the love and recognition it deserves. As the fashion world gets to evolve more each day, the trend of terracotta will stand the test of time and is definitely here for the long haul.
Related Posts