Miorola /Fine Jewellery
finding that perfect pair of diamond earring to blend with your profession
Author:Adrija15th August 2020 at 12:00am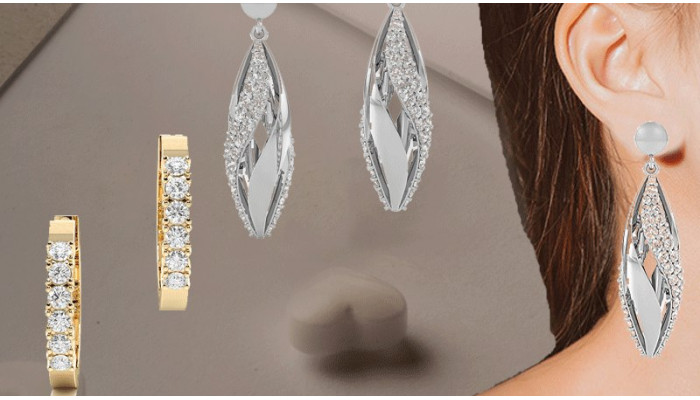 In this 'new normal' situation, people often synonymize the working-from-home mode with the liberty of working in pajamas. And the reality? Employees still have to get dressed for the office every morning. Even if you're meeting people in the virtual world, it's important to look professional and presentable. Be it hosting a boring zoom meeting or managing a class full of 10-year olds, a nice professional appearance can help you easily impress and disarm your audience on the other side. For that extra dash of pizzazz, wear diamonds. A pair of diamond rings, for example, can brighten up your face without making you look over-the-top. When matched appropriately with your officewear, they will make sparkling addition to your style quotient. Now your choice of jewllery pieces must blend with your professional image. It's, however, easier said than done. In this blog, we will discuss a range of diamond earrings designs that are suitable for different women professionals.
Teacher: If you are in the teaching profession, you know you are expected to abide by a strict dress code. The idea is to establish a sense of authority in the classroom. In India, teachers are generally encouraged to appear in traditional attire. Wear a pair of diamond drops for your online classes. They will add life to your traditional outfit. The little ones are sure to congratulate you on your dazzling appearance! However, you do not have to restrict yourself to drop earrings only. You can opt for diamond stud earrings on those days when you decide to keep things minimal. Wear a stud in a classic flower petal design or geometric shapes to match your outfit.
IT Worker: Choosing appropriate week wear becomes even harder when you intend to look your best for your next Zoom meeting. A monochrome fabric or a happy print? A Pantsuit or a business casual? Questions are too many and answers can be varied. While the choice of your attire depends on the type of the meet, you can never go wrong with your diamond accessories. A pair of diamond earrings can accentuate your style in many ways. A simple piece in contemporary design can give you that timeless classic look that is very chic, very corporate. Alternatively, flaunt hoop earrings on those occasions when things are a little bit informal.
Personal Finance Consultant: In these uncertain times, you have to play a crucial part in your clients' lives. They must be in a confusing state of mind right now. Your job involves giving confidence to them, leading them in the right direction, and helping them make the right financial decisions. Your calm appearance can go a long way to instill confidence in your clients. Whether you prefer western formal or ethnic wear, a pair of quaint diamond studs will just be perfect for you. Make a collection in a variety of shapes which may include, round, oval, square, and heart. Wear earrings in platinum settings for an ultra-formal appearance. The pairing of gold and diamond is plain gorgeous. They can be worn with your golden bordered sarees on special days like when you close a deal.
Psychologist: In these unprecedented times, many people are grappling with tremendous stress and emotional health issues, and you, the psychologists are helping them stay positive and calm. A neat formal appearance will help a patient, who may be in a confusing mental state, to gain control of his/ her life and bounce back. A dash of the diamond can add a happy shade to your otherwise simple and minimalistic appearance. Small studs in different shapes, preferably in platinum will be your best bet, helping you look formal yet stylish.
Businesswoman: To get ahead in your field, you should dress to strike the perfect balance between professionalism and style. Whether you are a suit-and-skirt-strictly-business-formal type of person or you are comfortable in sarees and salwar suits, choosing the appropriate accessories to complement them can be tricky. Diamonds, however, can never go wrong. The right pair of diamond ear studs can give you a look that is chic and elegant at once.
Remember, in a professional world, pieces of jewellery are meant for accentuating your outfit and not meant for adorning you. No matter which profession you are in, too much of ornaments may make you look blingy and distract the attention of your audience. The major advantage of diamond earrings is they add brightness to your face as well as your personality without making you look ostentatious. That is why at Miorola, we keep saying, you can never go wrong with diamonds. Regardless of their profession, every woman's wardrobe must have at least a few pairs of diamond earrings in various styles to complement their work look. Miorola's wide-ranging diamond earring collection is carefully curated to complement your look for every occasion – both professional as well as festive. Come explore our offering; you name it and we have it. If you are confused about your choice, get in touch with our customer care team. We are always a call or chat away.
Related Posts