Miorola /Fine Jewellery
making a style statement with oxidised jewellery : a brief overview
Author:Adrija20th February 2021 at 12:00am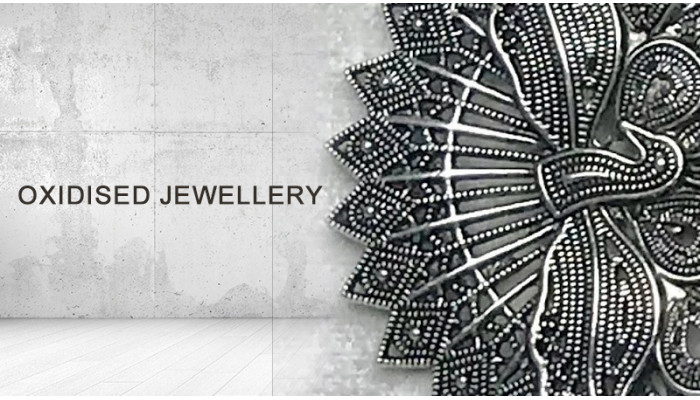 Nothing can be more versatile and eye-appealing than good old oxidised jewellery. It is truly fresh and fuss free-range, which makes it a huge hit among women of all ages. With a myriad of brilliant designs to choose from, you can never go wrong with oxidised jewellery as your fashion accessory. Read on, to know what oxidised jewellery is and the reason behind its raging popularity.

Oxidised jewellery: A backdrop
Oxidised jewellery is basically blackened sterling silver metal. It is usually achieved by exposing the metal to an intricate chemical process. The tarnished or oxidised layer on the jewellery is technically termed as "patina". This thin layer of patina forms on the surface of the metal, when it is chemically treated with sulphides. Its worthy to mention here, a controlled application of this process will give us beautiful hues like blues and purples, instead of blackish surface colour.
The technique of blackening silver metal was first introduced in 1100 AD and primarily found its application in filtering out impurities from a metal. In ancient times, specifically in the Vedic civilisation, metals were originally used for utilitarian purposes. As it always happens, a creative brainwave let to the introduction of metal ornaments like, necklace pieces, earrings, rings and bracelets. This unique fashion trend has taken its inspiration from the indigenous tribal belts of India. The vibrant tribal culture of our country has given way to a number of exquisite jewellery pieces, that over time developed into something as beautiful and rustic as oxidised jewellery pieces.
Making of oxidised pieces
Traditionally, there are two methods to create oxidised jewellery. The most common one is, to expose the silver metal to sulphides, in order to that blackened layer. The second method uses hydrochloric acid as the agent of oxidation. Although, the second approach is a much quicker and an effective one, it is a rather hazardous process, and should be in accordance with proper safety guidelines.
Why should you consider adding them to your collection?
1. Oxidised jewellery is absolutely pocket friendly. You can find lovely oxidised jhumkas or bracelets at incredible price points. Price ranges anywhere between Rs 50 to Rs 450. If you are looking for something a little premier, the prices are going to spike a little; still, they fall within the affordable bracket.
2. Versatility is definitely a big reason for their staggering popularity. Be it a regular office day or a dinner invitation, these beauties are there to make you look glamorous at any time of the day. Team it up with your casual or traditional wear, and create a fun and trendy statement look.
3. You get to choose from a wide array of innovative and colourful designs. You can find earrings, necklaces, bracelets, anklets to name a few, in all kinds of vibrant and ethnic motifs. These pieces can brighten up your look for the day, in an instant.
4. It's easier to maintain and clean oxidised jewellery, than any of your regular gold jewellery.
Styling oxidised jewellery
Tribal or Mughal motifs look great when paired with traditional attires. Team up your saree with a pair of oxidised jhumkas in Kundan design, or jazz up your outfit, by accessorising with a stack of exquisite meenakari bangles. Oxidised pendants that have a glass or pearl embellishments, look equally regal when paired with any ethnic outfit. These pieces are great to liven up your casual wear. The key is to go for simple yet vibrant pieces. All in all, it's really easy to style and express your creativity through these fresh and fabulous pieces.
Maintenance
There are certain things that you should keep in mind, if you have oxidised pieces in your jewel ensemble.
1. Storage of oxidised jewellery is an important factor, that contributes to longer shelf life. When not in use, keep the jewellery in closed containers, preferably wrapped in cotton clothes or rolls.
2. Exposure to sunlight and any source of fluorescent light, should be avoided.
3. Use any suitable polishing cloth, and periodically clean or polish the surface of the jewellery.
4. Any tarnish remover (like a paste), should not be used to polish oxidised jewellery.
5. Last but not the least, do not let these pieces come in contact with steam or hot water.
If you want to add a rustic appeal to your look, then consider investing in oxidised jewellery and have fun experimenting with your looks!
For an exciting range of fashion jewellery, do visit our website miorola.com.
Related Posts