Miorola /Fine Jewellery
rose gold jewellery: a brief overview
Author:Adrija20th February 2021 at 12:00am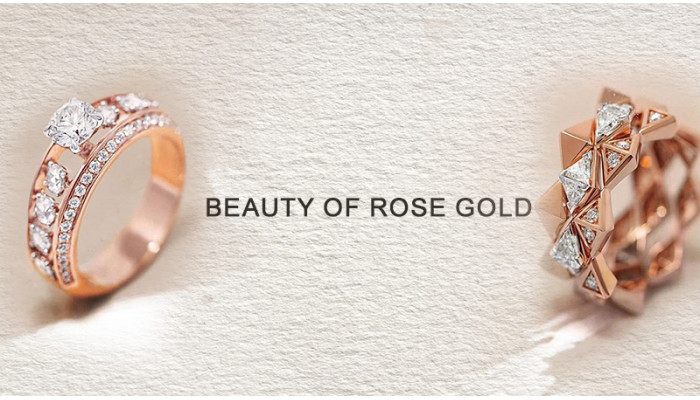 A perfect complement to traditional gold rose gold jewellery has created a ripple in the fashion community, with its pristine-pink aesthetic. With the advent of spring, some prefer to switch to rose-gold accessories, as it stands out beautifully against the fresh summery glow of nature. Rose gold is really easy to accessorise and makes you look stunning at any time of the day.

The Science Behind Rose-Gold
Gold in its pure state (24 karat gold), is extremely soft and unsuitable, for jewellery making. An alloy is created with a specific blend of metals, to make it durable for moulding. A certain alloy, created with a pre-requisite ratio of metals, acts as the universal base for all kinds of gold jewellery. The ratios are tweaked a bit, to get the desired colours like, white, yellow, red etc.
The depth of the hues in rose gold depends on the usage of two metals, namely copper and gold. The trick to a pronounced pinkish tint will be to use a lesser percentage of gold, and a larger proportion of copper. Copper is the reason behind that beautiful champagne rose colour. The usual percentages are 74% gold and 22.5% copper. In many cases, a small amount of silver is added to lighten up the tone.
The History of Rose Gold
Rose gold made its first appearance in 19th century imperial Russia. Celebrated jeweller, Carl Fabergé, used rose gold to accentuate his illustrated creation, Fabergé eggs. This unconventional style became so popular that, it got substituted with the name "Russian gold".
Although, the first significant application of rose gold is supposed to be in Faberge eggs, however, its origin can be traced back to as early as AD 1000. Supposedly, the South Americans at that time were proficient in creating coloured metals, by using different proportions of gold, copper and other metals.
The 1920s saw the trend of rose gold jewellery gain momentum. This decadent era, characterised by interesting fashion choices, made rose gold accessories a staple favourite of women of all ages. Post-world-war I saw a decline in its popularity, as austerity became the defining principle of many.
Presently, rose gold jewellery continues to maintain a strong footing, with more and more opting to make a statement with rose gold as their choice of accessory.
Some Ways to Style Rose Gold Jewellery
This style is all about creating a pleasing aesthetic. So, the key will be to keep it minimal. Ditch your normal yellow gold studs and go for elegant pieces like rose gold earrings crafted with tiny, round diamonds. Rose gold works great with your office wardrobe. So, if you are looking for something professional yet pretty, then have a look at these.
If you want to create a statement look, then mix and match with any of your other jewellery pieces. A stack of rose gold rings with a small gold pendant looks great with any casual outfit.
Being extremely versatile, there isn't a rulebook for styling rose-gold. Just have fun while accessorising and experiment with your looks!
Looking for statement rose gold pieces? Do visit our website miorola.com for a mesmerising selection of rose gold jewellery.
Related Posts