Miorola /Fine Jewellery
diamond pendants in cultured diamonds
Author:Adrija15th August 2020 at 12:00am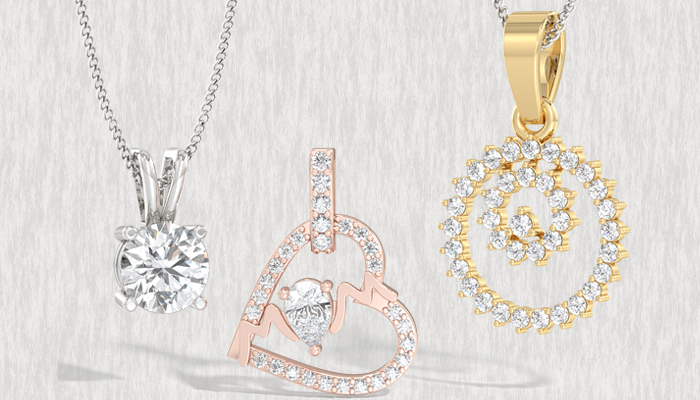 Diamond pendants are a much-coveted item for every jewellery lover. However small or big, these pieces can never go out of style. From an office meeting to a night out, a diamond pendant can add the right amount of bling and make you look fabulous at any event and time of the day. Nonetheless, it is not the first choice for many people, as they might cost a bomb. That is where comes the option of buying cultured diamonds. So, what exactly are cultured diamonds?
The first thing that you should know is that cultured diamonds or lab-grown diamonds are not categorized as "fake" and are absolutely real like the natural ones. They are developed by scientists in a laboratory, under controlled environmental conditions that mimic the earth's natural process of crystallizing carbon. Lab-grown diamonds have the same physical and chemical properties as natural diamonds. They are so similar to the earth-mined ones, that even expert gemmologists are unable to differentiate between the two. Just like natural diamonds, cultured diamonds have certain flaws that are more commonly known as inclusions.
Now that you know what cultured diamonds are, you may be thinking that they are even costlier than the natural ones. But it's not exactly the case. Despite having the same cut, clarity, and quality, lab-grown diamonds cost at least 25%-50% less than their earth-mined equivalents.
What many people do not realize is that cultured diamonds are very sustainable and eco-friendly. Although a diamond necklace crafted with earth mined diamond looks fabulous on a woman, many fail to appreciate the toiling labour involved in extracting these gems from their natural environment. On the other side, lab-grown diamonds are cultured in a laboratory using carbon, the 5th most abundant resource on this planet. The process does not require countless hours and tiring labor work to be put in. So, if you want to buy a diamond pendant without breaking the bank, definitely go for the ones set in cultured diamonds. Having said so, check out these tips, that can come in handy once you have decided to invest in such an item.
Shop online - When it comes to buying a pendant with lab-grown diamonds, purchasing online is the best option out there. Offline jewellery stores may not have all the designs and price ranges that you are looking for. So, it's advisable to shop online from a reputable company.
Certifications are a must - While buying cultured diamonds, don't miss out on certifications. Always lookout for the 4c's (colour, cut, clarity and carat weight) and buy diamonds which are certified by the GIA or EGL or IGI.
Add some colour - Lab-grown diamonds come in various fancy colour options like blue, orange, yellow and pink. A tiny blue round cut diamond pendant or a pink heart-shaped pendant can look wonderful and add some colour to your everyday look. Another perk of getting a coloured stone is that, you can get it a lower cost as compared to the natural ones. So if you are looking for a diamond pendant that is unique yet affordable, then consider coloured cultured diamonds. Looking to buy cultured-diamond pendants? Make sure to browse through our collections at miorola.com.
Related Posts