Miorola /Wedding
which metal works best for a wedding ring
Author:Adrija13th April 2021 at 12:00am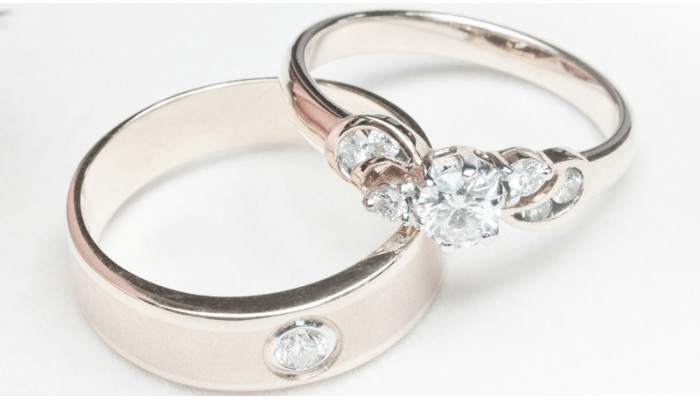 While choosing a wedding ring, we tend to focus more on the embellishments, while overlooking a rather important aspect, which is the type of metal. Ultimately, it is the base metal, that holds it all together. So, it is equally important to choose the right base for your ring.
Wedding bands are available in a wide variety of metals, such as, gold, silver, and platinum. Each of them comes with their advantages and disadvantages, with respect to design, durability, cost etc. Just as with gemstones, it is always advisable to explore a bit before selecting a band. Below are the top 5 metals that are extremely well suited as the base, for a wedding ring.
Yellow Gold
When it comes to the most popular choice, in wedding rings for women, yellow gold is the one. Over the years, it has managed to hold a footing in the jewellery industry, and still continues to be a strong contender in the world of ring metals. Yellow gold is a combination of pure gold, zinc and copper. Depending on the purity of the gold content, there are two types that you can consider: 18K and 22K. These two vary mainly in their price points and overall design. The 18K gold is slightly inexpensive than 22K, but at the same time, 22K gold has a more prominent shine and lustre.
If we talk about the advantages of yellow gold as the base metal, then there are many. It is the most versatile metal out there, and looks beautiful on everyone, irrespective of their gender. It is extremely low maintenance and a super budget friendly option.
The one and only disadvantage is that, gold is prone to certain abrasions, and may require frequent polishing and cleaning. It may also get easily scratched, if brushed against a hard surface.
If you want to go with the traditional route, then yellow gold might be just right for you.
Platinum
If you are looking for a ring that exudes luxury and elegance, then platinum is the one. Known as one of the rarest metals in the world, it works beautifully as the base for wedding rings. The exquisite sheen and refined elegance, takes the overall design, to the next level. diamond ring with platinum as the base metal,is the epitome of sophistication. This metal is extremely durable, with a good resistance to corrosion. Also, the classy look and feel of this metal makes it perfect, as the base of wedding rings for men.
However, platinum is one of the costliest options of all. Take a note of the price points, if you are working on a budget.
Sterling Silver
Once considered as more valuable than gold, sterling silver is one of the oldest and most loved precious metals of all times. Just as gold, pure silver is too soft to be used on its own. It is usually mixed with copper and some other metals to make it durable. The radiant whitish glow of this metal, makes it look incredibly chic and glamorous. Sterling silver, however, tarnishes quite easily, and its upkeep can be quite cumbersome.
If you are looking for an affordable option that looks great, then this might be the best one for you.
Titanium
Apart from the traditional gold or silver metals, if you want something unconventional, then have a look at titanium rings. Known as one of the strongest metals, titanium as a wedding band, has grown quite popular over the years. While it is naturally a greyish silver colour, black titanium wedding rings are now the coolest trends in town. If you are in search of a unique ring for your man, then take a look at some of these rings. Extremely durable, lightweight and pocket-friendly, titanium is a great alternative to the more orthodox choices like gold and silver.
Cobalt
If you want to add an interesting and modern twist to your wedding ring, then pick cobalt as your choice of metal. Apart from being lightweight, and corrosion resistant, it will also be easy on your pocket. It looks very similar to white gold, and can be a nice alternative. On the downside, these rings can be difficult to resize; so be extra careful of the size before ordering a cobalt wedding ring.
At the end of the day, there is no "best" metal for your wedding ring. It all depends upon the tastes and preferences of you and your partner. Take a note of your partner's likings and choose the one that suits his or her personality, the best.
Looking for the wedding band of your dreams? Do visit our website miorola.com for an exciting collection of wedding and engagement rings.
Related Posts