Miorola /Wedding
are wedding rings expensive? how much should you actually spend on it
Author:Adrija13th April 2021 at 12:00am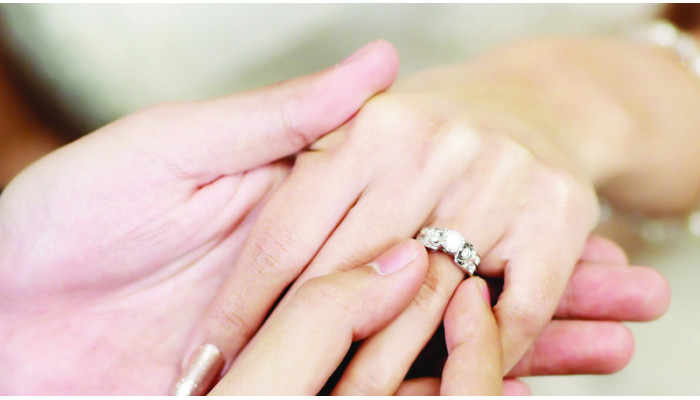 Since the ancient Roman era, wedding rings have been an indispensable part of wedding traditions. They are the emblem of eternal love and commitment for one another. With such emotional significance, it is natural to feel, that, you should expend all your time, and money, towards buying the perfect pair of wedding bands. With various other wedding related expenditures in your hand, it is best to do some research and come up with a budget for these rings.
Cost of a Wedding Band vs the Cost of an Engagement Ring.
Wedding bands and engagement rings both symbolises eternal love and affection, but they are world's apart when it comes to their cost. Wedding rings are normally the less expensive of the two rings. The price differences between these two are due to the fact, that they have completely separate utilities. The engagement ring is worn prior to the big day, at the time of the proposal; the wedding bands are worn after the exchange of the marital vows. It is customary, to priorities engagement rings, as they signify that you are planning to tie the knot.
The design of an engagement ring is the main reason behind its high cost. In most cases, these rings feature a diamond solitaire or other precious gems as the main centre stone. Pave accents with intricate embellishments, are a must, when it comes to the band design. The weight and skilled craftsmanship, further adds to the cost.
Wedding bands, on the other hand will be a lot easier on your pocket. Traditionally, these are plain metal bands, with no gemstone embellishments.
Budgeting Wedding Bands
Most types of wedding rings are plain bands of metal. Specifically, wedding ring for women come in white gold, rose gold or silver. Wedding rings for men often have platinum or titanium as the base metal. These are inexpensive than a diamond ring, and will help you save up a little.
However, the answer to whether wedding rings are expensive or not, will
change, if you ditch traditions, and decide to amp up your style. The modern times, have brought with it, various chic and glamorous designs for a wedding ring. If you want such an upgrade, then prepare to expand your budget, as the prices will go up.
Some of the popular styles of wedding rings in the recent times are given below.
Wishbone Rings:It is a 'v' shaped ring, accented with a continuous line of diamonds. These make beautiful wedding bands and are perfect for minimalists.
Eternity Rings: Also known as the infinity ring, these bands feature an endless circle of diamonds, all of the same size and cut. An eternity ring represents the circle of life, and will be an interesting alternative to traditional metal bands.
Black Titanium Bands: These rings are increasingly becoming popular and one of the coolest trends in the world of fashion. The minimalistic yet elegant design, paired with the smooth black finish, looks incredible and is perfect as a daily-wear accessory.
A textured gold ring: A great alternative to an orthodox gold ring can be a textured band. The most popular is a textured ring with a bark finish. Jewellers craft this style by setting the gold in cherry wood molds.
Regardless of the style you choose, wedding rings are going to cost you a lot lesser, than an engagement ring. Nevertheless, don't forget to set a budget and plan accordingly.
Ultimately, its not the cost that matters; it is the thought that counts. No matter how little or generously you spend, at the end of the day, your wedding ring is an embodiment of the unending love you have for one another. It is an expression of eternal affection and is therefore, emotionally priceless.
Related Posts