Miorola /Proposal
how to propose your girlfriend
Author:Palm9th October 2020 at 12:00am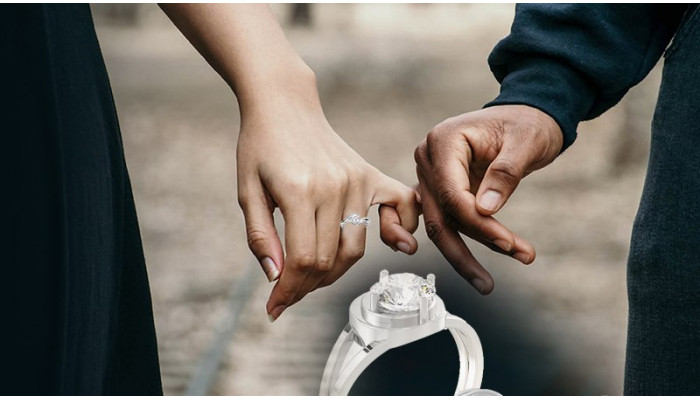 How can I propose to my girlfriend?: Proposing your girlfriend can be overwhelming, as there is the pressure of getting it right the first time. Girls dream about their wedding proposal from when they are little. This may add to the pressure. However, with the right idea, a bit of planning and a little help, you can stage a proposal that you both will remember for days to come and may even tell your kids about. We help you out with a few popular ideas on how to go down on one knee with a diamond ring.
A dinner proposal: A classic dinner proposal never fails to impress! Set the mood with a dim ambience, slow music, great food, and good wine. And when she is in the moment, pop the question. You can ask the chef to prepare her favourite dish and incorporate the ring for proposal in it. Also, it will be better to reserve a table in a corner in advance so that you get a nice cosy place to go down on one knee.
Propose her in her favourite place: Take her to her favourite place. It can be the beach, the mountains, her favourite restaurant or city. You can also take her to the place where you first met or someplace that has your memories. You can then ask her to marry you when she is overwhelmed with all the memories.
Get your loved ones involved: If she is close to her friends and family, get them involved in your proposal. Talk to her friends and family and take ideas on how to set up the proposal for her. You can even get your family and loved ones involved. Create a montage or a video, or get a theme for the proposal. You can then propose her with a diamond ring when it ends.
Public proposal: You can also opt for a public proposal if you want to show everyone your love for her. You can arrange a flash mob, pop the question at a public event like a concert or a play or any other function. However, remember to plan and get help from professionals to ensure that everything goes off without a hitch.
Intimate proposal: If either one of you is shy, and does not like public displays of affection or suffers from stage fright, this is the one for you. You can propose to your girlfriend in an intimate setting. It can be your home or an Airbnb or a hotel room. You can decorate the room with her choice of flowers, light, candles, and play romantic music and surprise her by going down on one knee with a diamond ring for proposal. Whichever method you choose to pop the question, ensure that you plan it thoroughly to ensure that it goes off smoothly. Also, what is a proposal without a diamond ring? Choose from the best in the market at miorola.com. They have some of the best diamond rings for the proposal at competitive prices. You can browse from a range of designs, compare, and get them shipped to your doorstep. What is more, you also get a certificate of authenticity so that you do not have to worry about the genuineness.
Related Posts