Miorola /Fine Jewellery
which diamond cut has the most facets?
Author:Adrija1st June 2021 at 12:00am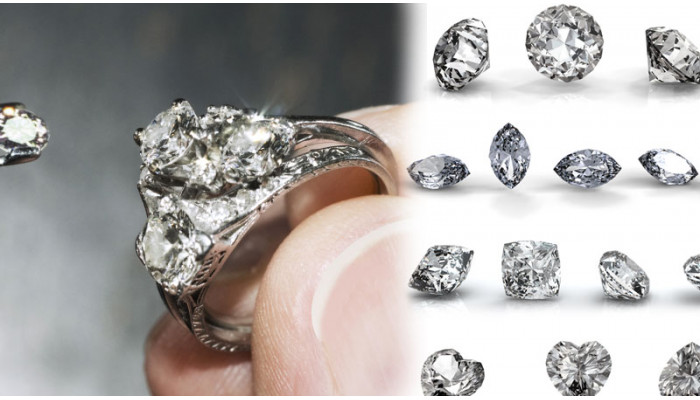 The beautiful sparkle of a diamond is what makes it beloved by so many. The enchanting effect is however arrived at, after hours of polish and an expert finish. If you have ever wondered what makes a diamond sparkle so much, then you are just at the right place. Read on to discover more about the intricate structuring of this versatile gem.
What makes a diamond glitter?
The characteristic sparkle of the gemstone is due to its high refractive index. The refractive quality depends a lot on the cut of the stone – more specifically on the varied facets of the diamond. So, what are facets? Facets refer to the numerous engravings on the surface of the diamond. Each of these act like prisms, helping light bounce off them and creating those distinctive flashes. The facets are designed in a way, that leads to maximum light retention and refraction. So, it can be said, the more facets a diamond has, the more it will sparkle.
Which diamond cut has the greatest number of facets?
Over the years, these gemstones have been developed into different shapes and cuts, after careful deliberation and skilful observation. Here are some of the most exclusive cuts that have an impressive facet count.
Round Brilliant Cut
As the most popular diamond shape all over the world, a round cut diamond currently features 58 facets (including the culet). The ingenious structuring creates outstanding brilliance and fire, making these gems look striking and more prominent than ever. Its inception can be traced back to a Belgian designer by the name of Marcel Tolkowsky. In 1919, he proposed a mathematical formula in his PhD Thesis, which talked about optimal diamond brilliance, with the help of a brilliant cut. The round brilliant cut is considered to be the benchmark of all other diamonds. If you are looking for the sparkliest engagement ring for your fiancé, then this exquisite cut is the one for you.
Princess-Cut
A princess-cut diamond sports 50 to 58 facets, depending on the cut of the stone. Although a princess cut diamond has less brilliance and fire than a round-cut, it is still the brightest among any square-shaped gem. It looks like an inverted pyramid with a square base, and slanting sides. This cut was mastered by Apart Nagy, a diamond cutter from London. It was originally known as the 'profile cut'. Princess-cut diamonds will cost you less than a round cut. The lower price is mainly due to a lesser intrinsic value. This cut is a popular choice for diamond earrings as well as pendants.
Oval-Cut
With 56 facets, the Oval-cut has almost the same brilliance and fire as a round cut diamond. This is often referred to as a fancy cut, mainly because of its slender frame and unique shape. The presence of abundant facets increases the fire as well as the brilliance of these stones. If you are working on a budget, then this is perfect for you, as it is a lot cheaper than any of the round cut ones. However, there are some downsides to it that you should know about.
1:- Most fancy cuts are not graded by any certified gemological laboratories. Make sure to purchase from a trusted source, so that its quality does not get compromised.
2:- Many of the oval cuts have a dark area known as the 'bowtie', that runs in a criss-cross pattern all over the surface, reducing the quality of its appearance. One tip to avoid such inclusions is to buy a stone whose facets are on the pavilion.
Radiant-Cut
This cut features 70 brilliant cut-facets, on both pavilion and crown, creating a fantastic display of brilliance and fire. It has an almost emerald shape, with rounded corners. Diamond bracelets and pendants look glamorous with this particular cut. Interestingly, they cost 20-39% less than round-cut diamonds. Radiant-cut diamonds hide inclusions well, so always go for the one with a SI1 or SI2 clarity grading.
Asscher Cut
First created by the Royal Asscher Diamond Company in 1902, this cut has now become one of the most loved and sought-after. It features 57 step facets that resemble a staircase within a stone. Unlike normal facets, step facets are, however, unable to create that distinctive brilliance. It is usually featured in tennis bracelets and stud earrings. While purchasing an Asscher diamond, try to go for a VS2 clarity grading and a near colourless stone.
In conclusion, it is the facet and cut of a diamond, that gives it its quintessential sparkle. Make sure to keep in mind the do's and don'ts, for the ultimate shimmery diamond.
For an exciting range of diamond and gold collection, visit our website miorola.com.
Related Posts