Miorola /Fine Jewellery
moissanite vs diamond: know the difference
Author:Adrija1st June 2021 at 12:00am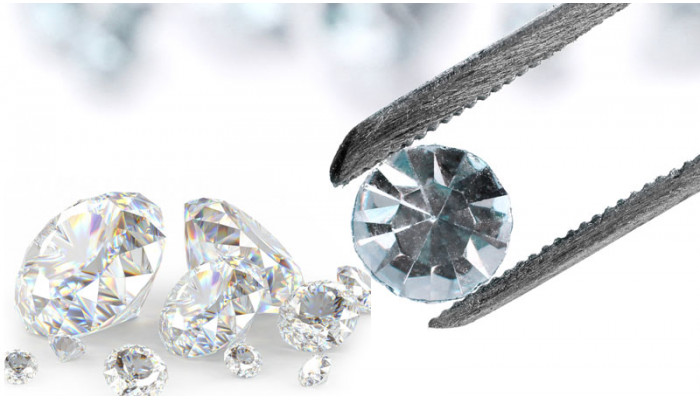 To the inexperienced eyes, Moissanite and Diamond are almost indistinguishable. When you have to choose between these two, confusion is inevitable. This article will highlight the ways to tell them apart and make you understand which of them is just right for you.
What is Moissanite?
Moissanite is a naturally occurring silicon carbide. It is an extremely rare mineral, whose origin can be traced back to outer space. It was first discovered by French chemist Dr Henri Moissan in 1893. Apparently, traces of this mineral were found in rock samples, taken from a meteor crater, located in Arizona. It has a nearly white appearance with occasional yellow or greenish tinges in them. Natural Moissanites are hard to come by, making them impossible to be used in jewellery making. In most cases, these are developed synthetically, that simulate natural conditions.
Now that we know what moissanite exactly is, let's compare it with diamonds based on: Brilliance, Weight, Durability and Price.
Brilliance
One of the most visible differences in moissanite is its brilliance. Moissanite emanates bright patterns, that are technically termed as dispersions. Moissanite has a dispersion rating of 0.104, while that of a diamond is 0.044. The kaleidoscope of colours is caused by the multi- faceted cut of these gemstones. The larger the moissanite, the easier it becomes to spot the difference. If you like your gemstones extra sparkly, then definitely go for a moissanite featured piece.
Weight
If we compare the weight of moissanite and a diamond of the same build, the former will appear lighter. This is because the density of moissanite is lower than that of a diamond. If you are searching for a lightweight alternative for diamond earrings or diamond pendants, then this is just right for you.
Durability
One crucial factor that you should look out for, is the durability of the gemstone, which is judged according to the 'Mohs Scale of Mineral Hardness'. This is an ordinal scale, from 1 to 10, evaluating the scratch resistance of various minerals. Moissanites are ranked at 9.25, while diamonds stand at a better score of 10. While moissanite works fine as a substitute for everyday jewellery, like a dainty diamond bracelet; however, it is advisable to choose a diamond setting, when it comes to the choice of engagement rings.
Price
When it comes down to money's worth, moissanite is a sure winner. Moissanites are significantly cheaper than their diamond counterpart. This means you can buy a much larger stone for less money. The main reason behind such pricing is that these gemstones hold much lesser value than diamonds in terms of design and quality. Nevertheless, moissanite is surely an alternative to consider, if you are on a budget. While purchasing any quality product, it is best to do a bit of research. So, let this article act as your comprehensive guide, in making an informed purchase.
For an exciting collection of rings, pendants, and more, do visit our website miorola.com.
Related Posts